Halloween Knights of Gore, Haunted Corn Maze @ Lyman Orchards.
An interactive, haunted Halloween event at Lyman Orchards awaits...!
The Knights of Gore will be in full, armored effect during this exciting event! Wander through the maze at dusk and be prepared for unexpected visitors as you follow the clues to fight the undead...
Entry times into the Maze: 4:30pm, 5:15pm, 6:00pm. Event lasts approximately 30 minutes.
Tickets are $25 each and include admission, access to the Smite the Knight Ring and a $5.00 voucher to 1741 Pub & Grill located at the Lyman Orchards Golf Course(valid 10/31/20 only). "Head up to 1741 Pub & Grill from the Corn Maze at 6 pm for live entertainment! Gather round to hear as David Anthony, The Foxy Bard regales you with songs of drinking, roving, fighting, and things to keep secret from your mother. You will laugh, cry, blush and wonder where you left the whiskey.
And so the story goes....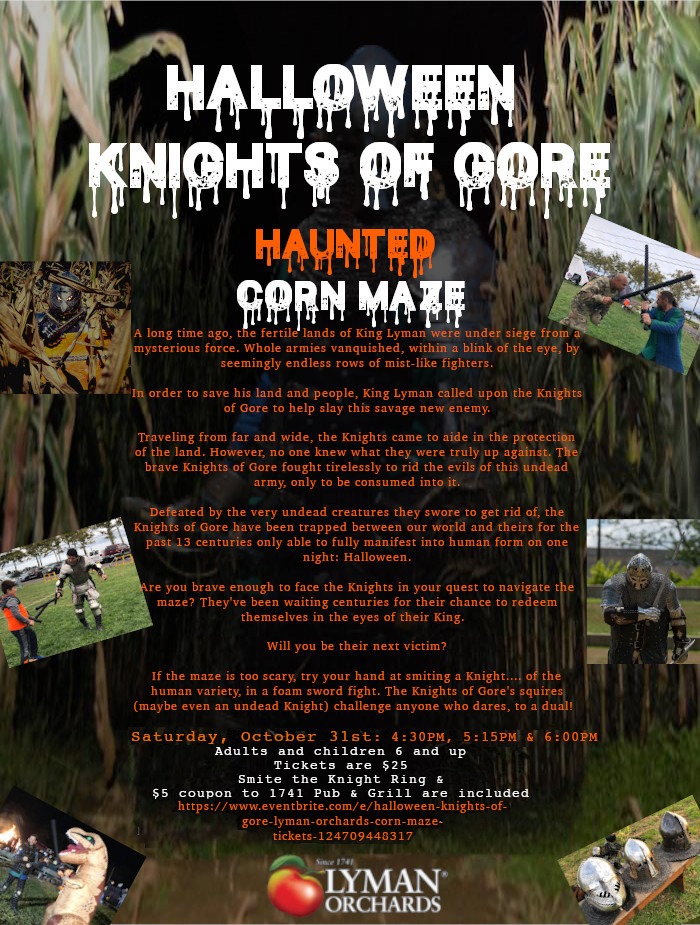 **Current COVID guidelines will be enforced - Masks required**
Advance Tickets Only- $25 for adults and children (appropriate for ages 6 and up)
NO REFUNDS
It'll be a haunting good time….