Lyman Orchards is taking the Connecticut beer scene by storm this fall with the Brew Maze Beer Tastings in the Ben Franklin Corn Maze!
We're going "colonial" in the Corn Maze this year with a Beer Tasting like no other, featuring beers from local CT breweries on five Friday nights during the months of September and October.  Sample suds among the stalks inside our massive 4-acre corn maze masterfully carved into a design featuring Ben Franklin's likeness, lightning bolt, kite and key, along with the hashtag #AllAmerican.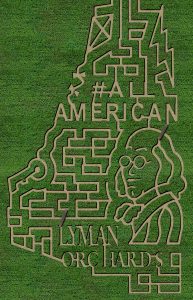 The 2022 Lyman Orchards Corn Maze transports you back to the electrifying moment Benjamin Franklin flew a kite in a thunderstorm, making the connection between lightning and electricity.  2022 marks the 270th anniversary of Franklin's famous kite flying experiment and we're spot-lighting Ben's discovery along with the key role he played in America's history as one of the Founding Fathers of the United States.
We're hosting some of Connecticut's most revolutionary brewers! Taste six 4oz. beer samples during the Corn Maze Beer Tastings scheduled as follows: 
Friday, October 14th, 4:30pm-6:00pm: Brewery Legitimus, High Nine Brewing, Witch Doctor Brewing Company
Friday, October 28th, 4:00pm-5:30pm: East Rock Brewing Company & Beer Hall, Clocktown Brewing Company, Twelve Percent Beer Project
As part of your beer tasting experience, we invite you to arrive any time during the beer tasting hours and meander through the pathways of the Ben Franklin Corn Maze!
We suggest you wear boots! Bring a flashlight – for good measure!
**Ticket includes six 4 oz. beer samples and corn maze ticket, 21 and over event (please bring photo ID - we ID everyone). Adult only event.
Tickets: $35
Questions? Contact: bcritchley@lymanorchards.com
**NO REFUNDS