Lyman Orchards is taking the Connecticut beer scene to the Land of Oz with an Adult Corn Maze Night at The Wonderful Wizard of Oz Corn Maze!
We're following the yellow brick road in the Corn Maze this year with a Beer Tasting like no other, featuring beers from local CT breweries on four Friday nights during the month of September.  Sample suds among the stalks inside our massive 4-acre corn maze masterfully carved into a design featuring Dorothy and the Cowardly Lion.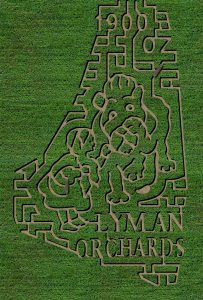 We're hosting some of Connecticut's most magical brewers! Taste six 4oz. beer samples during the Corn Maze Beer Tastings scheduled as follows: 
Friday, September 1st, 5:00pm-7:30pm: Black Pond Brews, Hoax Brewing, Tox Brewing
Friday, September 8th, 5:00pm-7:30pm: Two Roads Brewing, Five Churches Brewing, Caius Farm Brewing
Friday, September 15th, 5:00pm-7:30pm: Alvarium Beer Company, Back East Brewing, Space Cat Brewing
Friday, September 29th, 5:00pm-7:30pm: Broad Brook Brewing, East Rock Beer, Clocktown Brewing Company
As part of your beer tasting experience, we invite you to arrive any time during the beer tasting hours and sample beer from three breweries that will be set up outside of the maze. Then, meander through the pathways of The Wonderful Wizard of Oz corn maze! Last entry for the corn maze is 6:45pm! After that, don't forget to play some corn hole, do a potato sack race, use the mini golf putting area, and play twister!
We suggest you wear boots and bring a flashlight as it may get dark before you finish your journey in the maze!
Ticket includes six 4 oz. beer samples and corn maze ticket, 21 and over event (please bring photo ID - we ID everyone). Adult only event.
Tickets: $35
Questions? Contact: bcritchley@lymanorchards.com
NO REFUNDS