Apple Cider - A New England Tradition
When it comes to Apple Cider, New England is the Master of the Mills. Learn why cider packs more nutrition, flavor, and nostalgia than your standard apple juice.
It doesn't get much better than hand-picking apples at a New England orchard during the fall, except maybe savoring a cup of fresh apple cider. Besides its rich history in Colonial America, apple cider goes a long way in taste, health benefits, and fall traditions. 
Fall Traditions
What's fall without cider?  This New England staple is a seasonal favorite-traditionally served throughout apple-picking months, at Halloween, at Thanksgiving, and well into the winter holidays.  Apple cider can be enjoyed cold, or heated and mulled-mixed with spices such as cinnamon, nutmeg, and cloves.  Whichever way you like it, there's no separating cider from the season!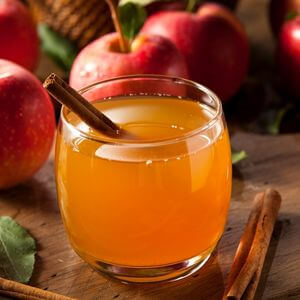 History of Cider in New England
Cider literally was a staple for early settlers in New England. Just a few years after arriving at Plymouth Rock in 1620, colonists began to plant apple trees. Apples were a good source of food and beverage-the Pilgrims stored the apples and brewed cider to help them through the harsh New England winters. Back then, all cider was "hard" and not the sweet, non-alcoholic version we find in farm markets. Hard cider is created by fermenting pressed apple juice-a process used to preserve the beverage longer.
As history would have it, cider became the most common beverage in New England.  This fizzy, fermented version of apple juice was simple to make, kept longer than milk, and safer to drink than water. Early settlers even brewed a low-alcholic version for their children, known as "ciderkin", by steeping their apple mash and pressing it for a second time.
What's the Difference between Apple Cider and Apple Juice?
Apple cider and apple juice have one thing in common-they're both beverages made from fresh-squeezed apples.  
The key difference between the two-cider is apple juice that hasn't undergone the filtration process of removing particles, pulp or sediment.  Apple juice is filtrated to remove solids and then heated to kill bacteria.  Some apple ciders, such as Lyman Orchards Apple Cider, are also pasteurized to extend the shelf life. The result-cider is more opaque than apple juice due to apple particles in suspension and is typically tangier than processed apple juice.
Health Benefits of Apple Cider
Since apple cider isn't filtered, it retains many of the same nutrients as fresh apples and has more polyphenols than apple juice.  Polyphenols are antioxidants that can lower the risks for certain health conditions.  Here are some of the potential health benefits of apple cider:
Lowers Risk of Disease - apple cider contains antioxidants that can lower the risk of certain types of cancer, and help reduce inflammation.
Prevents Cardiovascular Disease - apple cider can help prevent the oxidation of bad cholesterol, which causes buildup of plaque in the arteries.
Relieves Constipation - apple cider has been known to help people with constipation or IBS. Cider's pectin content provides soluable fiber that can help keep you regular.
Provides Nutrients - apple cider is a good source of vitamin A and vitamin C, potassium, and fiber.
What Types of Apples are used to make Cider?
Traditional cider is typically made by blending several varieties of apples to give it a balanced taste. McIntosh, Braeburn, and Cortland apples are especially noteworthy for their acidic, tart flavor, while Fuji, Cortland, Gala and Red Delicious apples provide a sweeter taste.  Since New England orchards grow multiple varieties, it's possible to create a consistent mix throughtout the year. 
The flavor of the cider also reflects the seasons.  In September and October the cider tends to be tart as the predominant apples that are squeezed are tarter and have more bite to them.  Moving into November and December, the cider is sweeter.
Lyman Orchards Fresh Apple Cider
Lyman Orchards Fresh Apple Cider is pasteurized and contains no preservatives.  In fact, the ingredient list is as clean as it gets-100% Apple Juice. Lyman Orchards cider is available for purchase at the Apple Barrel Farm Market in gallon, half gallon and pint sizes. In the fall, we offer straight Gala or Honeycrisp blends available in 1/2 gallons. You'll also find freshly-baked apple cider donuts and donut holes in our award-winning bakery! For information on pick-your-own apples, please visit lymanorchards.com/pick-your-own/apples.