Pick Your Own - An Affordable Family Day Trip
If you're looking for a wholesome, memorable, and affordable family outing, pick-your-own apples at Lyman Orchards is well worth the trip and a whole lot more!
When you live in New England, apple picking is just one of those quintessential pastimes that never goes out of style.  Maybe that's because it's more than the act of picking apples. It's a day when the family spends quality time together, enjoys panoramic countryside views, and makes memories to last a lifetime. When planning your next family adventure, there's a bushel of reasons to pick a day of apple picking at Lyman Orchards.
CT Grown Orchard Fresh Apples
There's simply no comparison between picking your own orchard-fresh CT grown apples and buying a bag of apples from the grocery store.  For starters, Lyman Orchards apples are eco-certified which means our apples are grown using agricultural methods that preserve and protect the orchard ecology. Not to mention, you really don't know how fresh those store-bought apples really are, how they were handled (or mishandled), or how far or long they had to travel to make their way into the produce aisle.  There's no fresher apple than a hand-picked apple straight from the tree!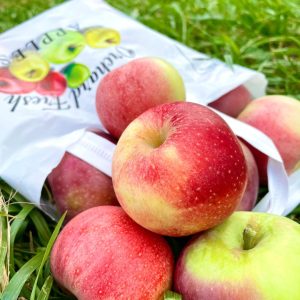 Pay by the Bag (not by the pound or person)
At the grocery store, apples are sold by the pound but when you visit Lyman Orchards pick-your-own apple orchards, you pay by the 1/2 peck (5-6 lbs), peck (8-10 lbs), and 1/2 bushel (18-22 lbs).  The more apples you stuff into your PYO bag the more money you save per pound.  You also save based on the size of the PYO bag you choose - the bigger the bag, the bigger the savings!
And since you're not paying by the person like most other family outings, fruit picking is extremely economical for a large family.  Bring the baby, the grandparents, and anyone else who might want to tag along!
Abundant Apple Varieties
Unlike the grocery store, you'll find some hard-to-find apple varieties along with all of your New England favorites like McIntosh, Cortland, and Macoun apples.  Voted CT's Best Pick Your Own Farm, Lyman Orchards grows 27 different types of apples, so go ahead and create a mixed bag of old favorites, and try some new varieties - try doing that at the grocery store!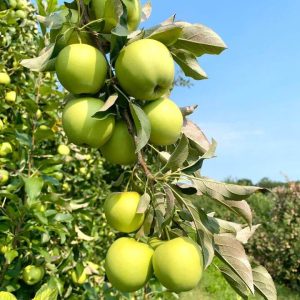 The Great Outdoors
Pick-your-own farms are a great way to teach the kids about where their food comes from while taking in some fresh- air fun! At Lyman Orchards, we have 100 sprawling acres of apple orchards with plenty of room to rove between row after row of 30,000 trees.  You'll also enjoy some of Connecticut's most dramatic countryside scenery - great for capturing family photos!
It's Worth The Trip
Besides apple orchards, the Lyman Orchards property has so much more to offer than just fruit picking. We have plenty of free and affordable family fun activities to fill your day!  Get lost in our Corn Maze, play some cornhole with the kids, pick your own pumpkin, and visit our family-friendly Apple Barrel Farm Market for lunch on the patio, award-winning hi-top apple pies, our famous apple cider donut holes, Lyman's own  apple cider, farm-fresh produce, specialty grocery items, and apple crisp sundaes at the Lyman Orchards Creamery.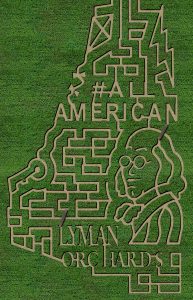 Take Home the Fun
And when you arrive back home with your overstuffed PYO bag of apples, extend the excursion by baking your own apple pie, apple crisp, or making homemade apple sauce with the kids.  Just another great way to create new family-favorite recipes and traditions to be enjoyed for years to come!
Apples to Apples, Lyman Orchards Pick-Your-Own Apples is a budget-friendly day of  fresh air and family fun!  For more savings, we've packaged up some amazing Pick-Your-Own Apples and Corn Maze deals! For more informaton, visit our PYO apple page. Lyman Orchards Apple Orchards are open daily from 9am-4:30pm, weather permitting.  Before you head out, be sure to call our PYO hotline at 860-349-6015 for daily updates, or check our website.  For additional pick-your-own fruits and our seasonal calendar, please visit lymanorchards.com/pick-your-own.