Middlefield, Conn. — July, 24, 2018 — What happens when two of Connecticut's most popular tourist destinations team up beginning Saturday, July 28? Double the fun – and many tails to tell.
Lyman Orchards and Connecticut's Beardsley Zoo are working together on this year's popular Sunflower Maze. The theme – created with the natural beauty of more than 350,000 sunflowers – is feline in design, and was inspired by the Beardsley Zoo's two Amur tiger cubs. The Sunflower Maze is open every day from 9am-5pm from July 28th through August 26th.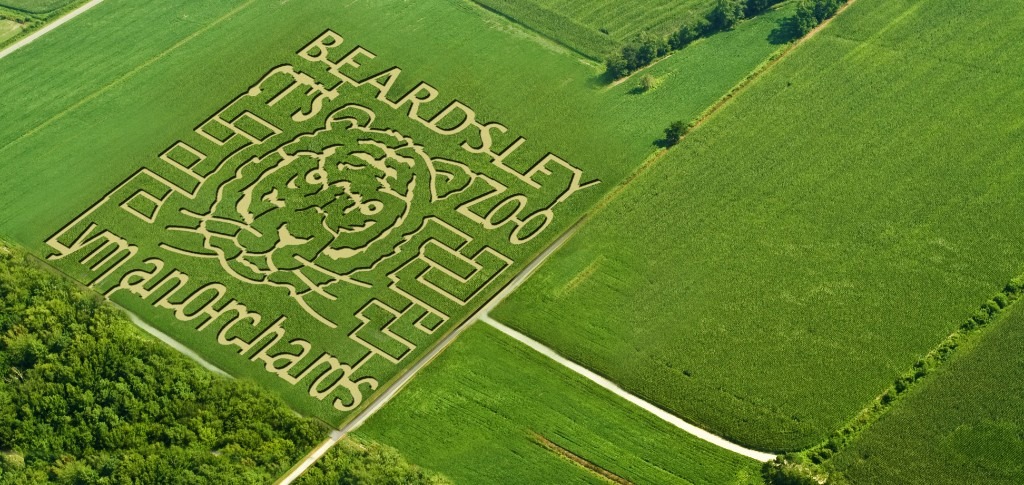 Speaking of big cats, in celebration of Connecticut Public Kids' Day, PBS Kids' personality Daniel Tiger will be on hand to shake paws with visitors of all ages at the Apple Barrel from 10am-4pm on July 28th.
In addition to Daniel Tiger, Connecticut's Beardsley Zoo will bring animals to the Sunflower Maze on opening day and Lyman Orchards will provide free face painting from 10am-2pm.
Lyman Orchards' Sunflower Maze — a perennial family favorite — runs through August 26 and Lyman Orchards will donate $1 of each admission to the Connecticut Children's Medical Center.
According to John Lyman III, this year's maze is a celebration of some of the outstanding attractions Connecticut has to offer: "We're proud to bring to Lyman Orchards a larger than life representation of the tiger cubs at the Beardsley Zoo, which is dedicated to acquainting visitors with the delicate balance that exists between beautiful animals and their environment."
"Connecticut Children's Medical Center is delighted to partner with Lyman Orchards for the 2018 Sunflower Maze, and we are excited to interact with the dazzling maze design that features Connecticut's Beardsley Zoo," said David Kinahan, president and CEO of Connecticut Children's Medical Center Foundation. "This annual activity enjoyed by families across Connecticut raises funds for the unparalleled care each day at the Medical Center. We are grateful for our partnership with the Lyman Orchards family."
For more than 275 years Lyman Orchards has been a hometown, homegrown destination, and the place where memories begin.
#
About Lyman Orchards
Set on 1,100 acres in Middlefield -- the heart of Connecticut -- Lyman Orchards (est. 1741) is a popular destination for the whole family. Shop at the Apple Barrel market, filled with fresh farm produce and Lyman Orchard's award-winning "Hi Top" Apple Pie; celebrate special events and weddings at the Lyman Homestead; enjoy seasonal Pick Your Own fruits and tours of the orchard; golf on two world-class public 18-hole courses designed by Gary Player and Robert Trent Jones, and improve your skills at the Lyman Orchards' Golf Center and Apple Nine Course. For more information, call Lyman Orchards at 860-467-4209, or visit online at www.lymanorchards.com.