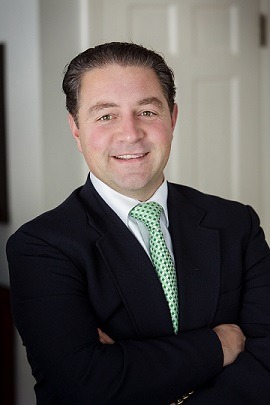 Middlefield, Conn. -- Jan. 16, 2018 -- The state of the game of golf is strong at Lyman Orchards, as they welcome John R. Dipollina to their golf staff.
From his professional affiliations and background to his club-fitting expertise, John brings a wealth of experience to Lyman Orchards. As the Director of Golf at The Golf Center, he will lead a broad mix of family-centric all-season events at the Apple Nine and will work with our golf instruction team as they build a top-level women's instructional program and PGA Junior League systems. He will also focus on encouraging women and junior golfers to get out onto the course.
Turning professional in 2004, John was elected to PGA membership in 2009 and was voted CTPGA Assistant of the Year in 2015. John is a member of the CT PGA Junior Golf Committee and is recognized as a certified instructor with U.S. Kids Golf. He also competes on a regular basis in CT PGA professional events and held the position of secretary on the CT PGA Assistants' Association board.
John was most recently on the staff at The Hartford Golf Club and has taught the game at Birchwood Country Club in Westport, Conn., and at Pine Valley Golf Club in Southington, Conn.
"We are very excited to welcome John to our roster of golf professionals," said Jason Beffert, General Manager, Lyman Orchards Golf Club. "His talent, skill and enthusiasm are infectious, and we look forward to his leading our team at The Golf Center."
The par-29 Apple Nine Course has been honored by the American Society of Golf Course Architects with its inaugural "Design Excellence" award and ranks as the top par three course in Connecticut and 10th overall in New England by New England Golf Monthly magazine. The Apple Nine wraps around one of Golf Range Association of America's Top 50 Stand Alone driving ranges in the U.S. and provides a unique learning and playing experience for golfers of all ages and abilities.
At The Golf Center, target greens and simulated fairways provide players with a game-authentic practice experience, more than 40 stalls on both sports turf and natural grass allow players to work all the clubs in their bags. The Golf Center also features a putting green and a short game practice area.
Lyman Golf features two championship courses designed by world renowned legends Robert Trent Jones, Sr. and Gary Player. Jones, a breathtaking 18-hole course, meanders through acres of woodlands, wetlands and grasslands, and features rolling hills and meadows. The Player course ushers golfers through apple orchards that are dappled with white pines and deciduous trees.
###
About Lyman Orchards
Set on 1,100 acres in Middlefield -- the heart of Connecticut -- Lyman Orchards (est. 1741) is a popular destination for the whole family. Shop at the Apple Barrel market, filled with fresh farm produce and Lyman Orchard's award-winning "Hi Top" Apple Pie; celebrate special events and weddings at the Lyman Homestead; enjoy seasonal Pick Your Own fruits and tours of the orchard; golf on two world-class public 18-hole courses designed by Gary Player and Robert Trent Jones, and improve your skills at the Lyman Orchards' Golf Center and Apple Nine Course. For more information, call Lyman Orchards at 860-788-4743, or visit online at www.lymanorchards.com.