Annual maze helps raise money for Connecticut Children's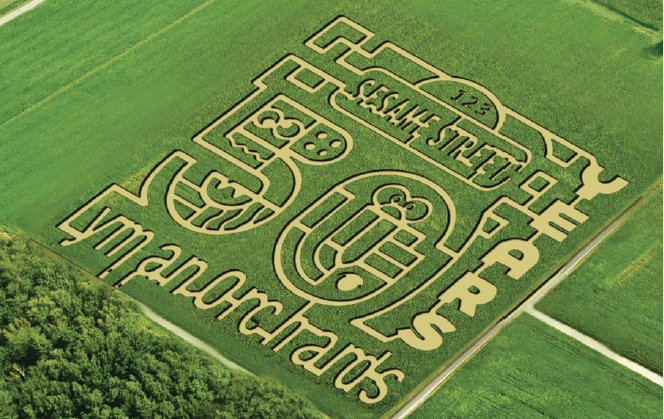 350,000 blooming Sunflowers are crafted into a unique design celebrating 50 years of the iconic TV show, Sesame Street. $1 from every admission supports the Connecticut Children's Pediatric Care Unit.
Middlefield, CT (July 30, 2019) – Sesame Street started 50 years ago—a colorful community of monsters, birds, grouches, and humans. It is a place where everyone counts. This year, Lyman Orchards' Sunflower Maze celebrates that 50th anniversary of this iconic TV show and its loveable characters including Elmo, Big Bird, Cookie Monster, Oscar the Grouch, and more. Connecticut's only Sunflower Maze officially opens this Saturday, August 3rd at 9am.
"We are so excited to partner with Sesame Workshop to celebrate 50 years of Sesame Street. It has played such a quintessential part of every child's early stage development for generations," said John Lyman III, executive vice president, Lyman Orchards. "We are also pleased to support Connecticut Children's and its incredibly important mission again this year. It brings us great joy to be able to share our appreciation for the incredible work that Sesame Street and Connecticut Children's each do for our youngest citizens."
Fun facts about the Lyman Orchards sunflower maze:
• More than 350,000 red and yellow sunflowers make up this year's maze.
• The maze is approximately 3 acres in size
• The average time to make it through the maze is about 30 minutes
• The Sunflower Maze has raised over $107,000 for Connecticut Children's.
• It is Connecticut's Original Sunflower Maze, now in its 13th year of operation.
"Connecticut Children's is delighted to again partner with Lyman Orchards this summer and receive proceeds from their annual Sunflower Maze," said David Kinahan, president of Connecticut Children's Medical Center Foundation. "We are grateful for the generosity of the Lyman Orchards family, whose support enables our team of pediatric experts to provide the highest quality care for families throughout our community."
The maze is scheduled to run from August 3rd through August 25th and will be open daily from 9:00 a.m. to 5:00 p.m. Admission is $10 for adults, $5 for ages 4 – 12 and free for children under 3 years. Visitors can save $1 per ticket by using their Big Y Silver Savings Card. The last entrance to the maze is at 4:30 p.m. For daily updates on the maze and Pick Your own, call our 24 hour hotline at 860-467-4209. Group pricing is available for companies or outings, please contact 860-349-6041.
###
About Lyman Orchards
Set on 1,100 acres in the heart of Connecticut, Lyman Orchards (est. 1741) is a year-round destination for the whole family in Middlefield. Shop at the Apple Barrel farm market, filled with fresh produce and Lyman Orchards' award-winning "Hi Top" Apple Pie; celebrate special events and weddings at the Lyman Homestead; enjoy seasonal Pick Your Own fruits and tours of the orchard; golf on two world-class, public 18-hole courses designed by Gary Player and Robert Trent Jones, and improve your skills at the Lyman Orchards Golf Center and Apple Nine Course. For more information, call Lyman Orchards at 860-467-4209, or visit us at lymanorchards.com.
About Connecticut Children's
Connecticut Children's is the only hospital in Connecticut dedicated exclusively to the care of children and ranked one of the best children's hospitals in the nation by U.S. News & World Report and a Magnet® designated hospital. Connecticut Children's provides more than 30 pediatric specialties along with community-based programs to uniquely care for the physical, social, and emotional needs of children. Our team of pediatric experts and care coordinators bring access to breakthrough research, advanced treatments for both rare and common diseases, and innovative health and safety programs to every child. Connecticut Children's is a not-for-profit organization with a mission to improve access to healthcare for all children through convenient locations, care alliances and partnerships.