Boys and girls of all skill levels are encouraged to sign up now for the 2019 season; All PGA Jr. League practices and matches will be held at Lyman Orchards Golf Center
MIDDLEFIELD, Conn. (March 7, 2019) – Registration for PGA Jr. League is now open at Lyman Orchards Golf Center, where all practices and matches are held onsite throughout the season. This is a great option for players and their families, as it eliminates travel time to other courses for matches, while creating a community among everyone involved.

Visit PGAJrLeague.com and search for Lyman Orchards to register online for either a 13u or 17u team by May 1. Spots are limited, so families are encouraged to register today!
PGA Jr. League is a game-changing program that brings family and friends together around fun, team golf experiences with expert coaching from PGA and LPGA Professionals. Boys and girls of all backgrounds and skill levels wear numbered jerseys and play on co-ed teams with their friends, competing in a two-person scramble format that builds confidence and encourages sportsmanship.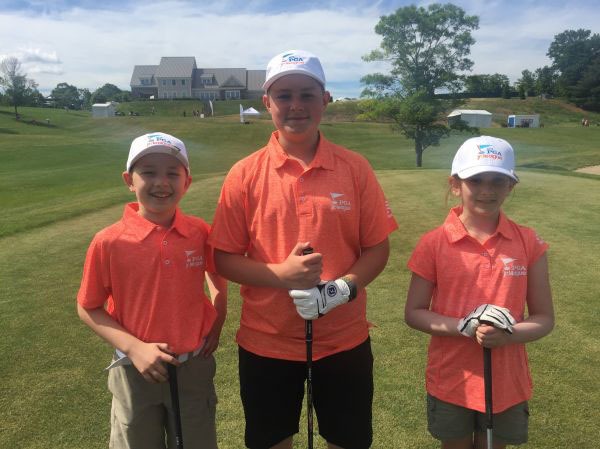 "We're very excited to field our own league this year at Lyman Orchards Golf Center," said John Dipollina, PGA, Director of Golf at Lyman Orchards Golf Center. "Hosting both practices and matches at our facility allows us to create an amazing experience for players and their families. We've received a lot of positive feedback from last year's program and we're looking forward to a great season."

Last year, PGA Jr. League reported record-setting numbers, with more than 50,000 boys and girls playing on 4,200 teams nationwide— a 20-percent year-over-year increase. Of those players, 80 percent were beginner or recreational golfers, demonstrating the developmental nature of the program and its inclusivity to youth of all skill levels.

This year, PGA Jr. League's 16u (16 and under) age division is expanding to a 17u division, to accommodate the growing number of golfers ages 14-17 who have aged out of the traditional 13u program but are still interested in league play. Lyman Orchards Golf Center will be fielding 17u teams this year.

The Golf Center, Connecticut's No. 1 golf training facility, provides a unique learning and playing experience for golfers of all ages and abilities. The Apple Nine, a Par 29 course, is situated around a Top 50 range as recognized by the Golf Range Association of America. The Golf Center offers programs specifically geared toward women and junior golfers.

PGA Jr. League also has the support of some of the biggest names in sports — Official Ambassadors include Rory McIlroy, Michelle Wie, Rickie Fowler and Lexi Thompson, who were recently joined by three-time NBA Champion and two-time NBA MVP Steph Curry and Olympic Gold Medalist and FIFA Women's World Cup Champion Alex Morgan.

###

About Lyman Orchards
Set on 1,100 acres in Middlefield -- the heart of Connecticut -- Lyman Orchards (est. 1741) is a popular destination for the whole family. Shop at the Apple Barrel market, filled with fresh farm produce and Lyman Orchard's award-winning "Hi Top" Apple Pie; celebrate special events and weddings at the Lyman Homestead; enjoy seasonal Pick Your Own fruits and tours of the orchard; golf on two world-class public 18-hole courses designed by Gary Player and Robert Trent Jones, and improve your skills at the Lyman Orchards' Golf Center and Apple Nine Course. For more information, call Lyman Orchards at 860-467-4209, or visit online at www.lymanorchards.com.

About PGA Jr. League
PGA Jr. League is the flagship youth pillar program of the PGA of America's 501 (c)(3) foundation, PGA REACH, with the goal of making the program accessible to all interested kids in the United States and around the world. For more information, visit PGAJrLeague.com and follow @pgajrleague on Facebook, Twitter and Instagram.