Star Wars Schedule at Lyman Orchards Corn Maze and Cider Donut Festival:
10:30am-4pm: Photo ops, lighsaber crafts, obstacle courses with Star Wars Characters from Kessel Temple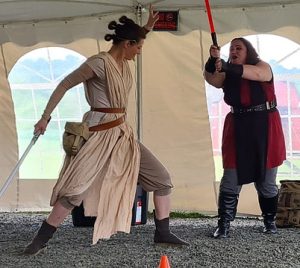 The "Kessel Run" obstacle course will be set up all day for you to test your speed and agility along this tricking course that has led meany a pilot astray!
11:30am, 1:30pm & 3:00pm (30 minutes): Padawan Lightsaber Training - Learn about the ways of the Force and how to wield a lightsaber from real Jedi Masters, and earn your rank of Jedi Padawan! Have your own lightsaber? Make sure to bring it! Kessel Temple will have a limited supply of lightsabers to use during the program, and some for sale. Sign up onsite early, as this free event will fill up quickly.
Kessel Temple, the Connecticut chapter of Saber Guild, is an international Star Wars lightsaber performance organization. Saber Guild an Lucasfilm-recognized, not-for-profit fan group. Donations are encouraged for all events, and 100% of the proceeds will go to charity!
No reservations required, all activities are first come, first serve.