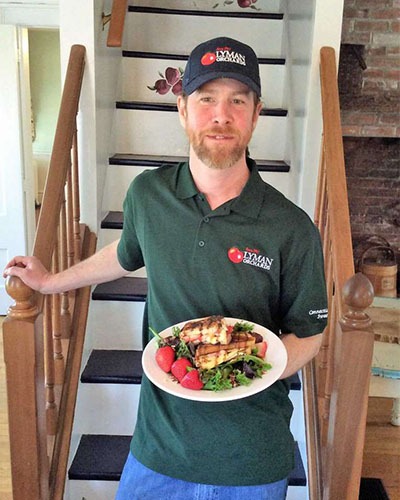 At nine years old, Ben Gaffney asked if he could work alongside his father, a chef, at Congress Rotisserie in New Haven. The elder Gaffney put the boy to work washing dishes for two years, in the hope that it would discourage his interest in the restaurant business.
But a calling is a calling. Ben Gaffney has spent his life since then pursuing the wonders of food, bringing Middlefield along for the ride as chef at Lyman Orchards since 2017.
Born in Michigan, Gaffney has lived mostly in Connecticut, even counting the months and years he's spent all over the world. His first stop away from home was New Orleans, where a friend needed a roommate.
Looking for work, he sent his resume to cajun-style cooking king Emeril Lagasse, not yet knowing of the man's culinary fame, and got a job working as a pastry chef for him. Gaffney went on to help Lagasse launch restaurants in Orlando and Miami Beach. In Miami, fortune smiled on him again when he met and married his wife. Her job as an infectious disease specialist for the United States Government took them from the Phillipines to Vietnam to Thailand, Angola and South Africa.
In each exotic land, he explored marketplaces and grocery stores and open-air eateries, gathering ideas and influences that would later play a role in Atticus's predominantly European/American menu. Accompanying him on his culinary adventures was his baby daughter, Grace, whose blonde hair often fascinated the native folks, who frequently presented her with the delicacies of the region in which they found themselves. Ben had to bring a backpack along to hold her gifts. Sometimes he had to politely refuse the ones that involved eyes and brains, but Grace's love of raw fish continues to this day.