This super simple Baked Apple Butter Pudding Cake features Lyman's Own Apple Butter with a hint of citrus. Easy enough for the kid's to make! Lyman's Own Apple Butter is available at The Apple Barrel Farm Market!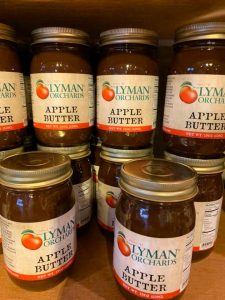 Ingredients: 
12 oz. Lyman's Own Apple Butter
1 cup brown sugar
2  cups cream
1 tspn vanilla
zest of 1 orange
juice of 1 lemon
3 egg yolks
4 whole eggs
1/4 tsp  nutmeg
1/2 tsp cinnamon
 Directions: 
Preheat oven to 325.
Whisk all ingredients together in a mixing bowl.
Pour into a greased 9x13" ceramic or glass baking pan.
Bake for 35-40 minutes until firm.
Cool at room tempature for 15 minutes. Cut into squares and serve with ice cream or fresh whipped cream.