Pick Your Own Raspberries Season Open at Lyman Orchards
If you're feeling sad about the strawberry picking season coming to an end, then Lyman Orchards has the cure for you:  add RASPBERRY PICKING to your PYO (pick your own) resume.  The raspberry picking season is short though, so hurry!  While raspberries are generally available in CT from early July to mid-August, always remember to call the 24-Hour Hotline for up-to-the-minute crop and field conditions and available varieties: 860-349-6015. 
First, a little history:
For 275 years, the Lyman family has been stewards of the land now known as Lyman Orchards, making it the 12th oldest family-owned business in the United States!  Pick-your-own ("PYO") became a part of Lyman Orchards history when the farm opened to consumers in the 1960's to become a pick your own fruit farm in CT, allowing everyone to become a "farmer for the day" and reap the rewards of the harvest season.
The raspberry plants at Lyman Orchards cover many acres of the scenic farm and offer spectacular views for its pickers.  Take a gander at these fabulous rows of raspberry plants!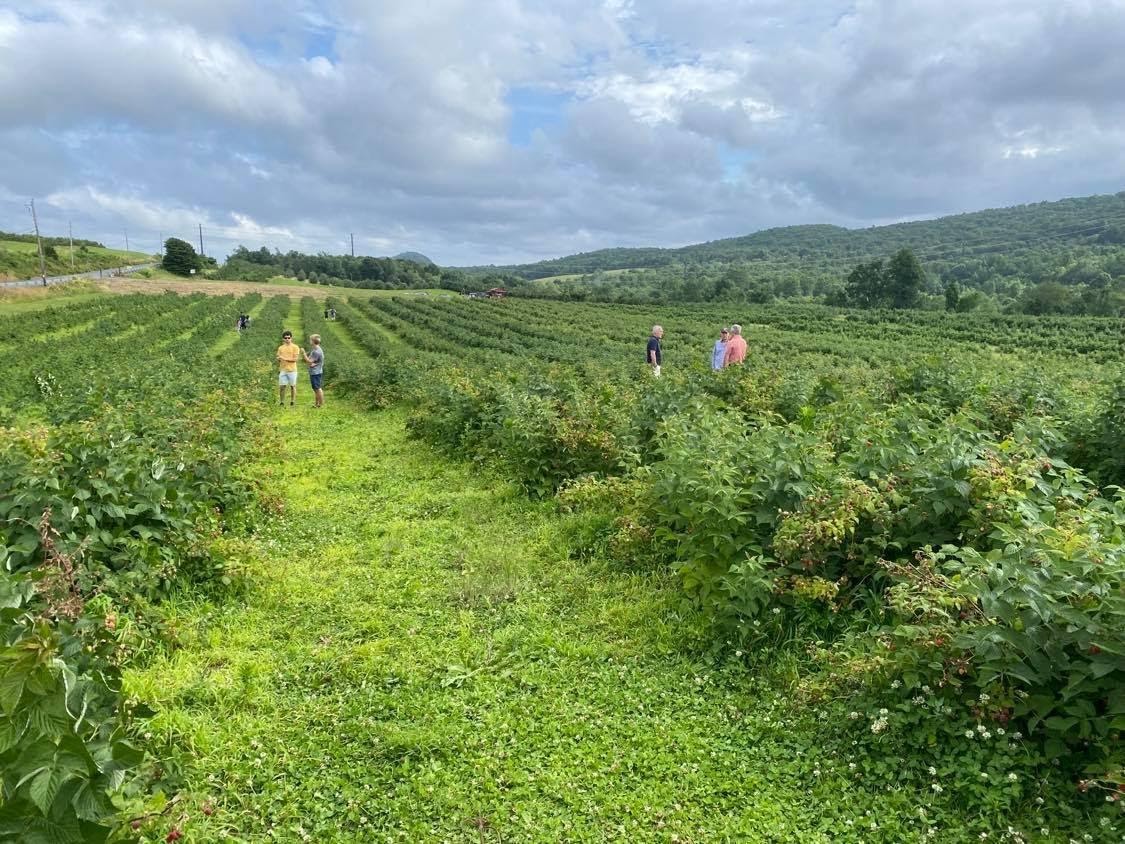 Botanically speaking, raspberries are not actually berries.  Raspberries are an aggregate fruit of "drupelets" with each drupelet consisting of a single seed and a juicy pulp.  A typical raspberry has around 100 drupelets (that's a lot of fruit!)  
The drupelets of the raspberry surround a central core.  When the raspberry is picked, the cone-shaped core remains on the plant, leaving the raspberry hollowed out.   
Those little hairs sticking out of the raspberry are the remnants of the pistils, the female portion of the flower.  
A raspberry plant has a perennial root system and biennial stems (canes).  Raspberry stems generally grow the first year and produce fruit the second year.  
A raspberry plant is taller than a strawberry plant, meaning less bending for picking (yay for backs!) but still perfectly accessible for kids.  Each raspberry plant can yield several hundred berries a year.  Because the raspberry plants are also wider than a strawberry plant, some of the best raspberries will be hiding inside.  The stems can be a bit prickly, so take care when reaching in.   
Only choose fully ripe raspberries for picking – they will not ripen after being picked.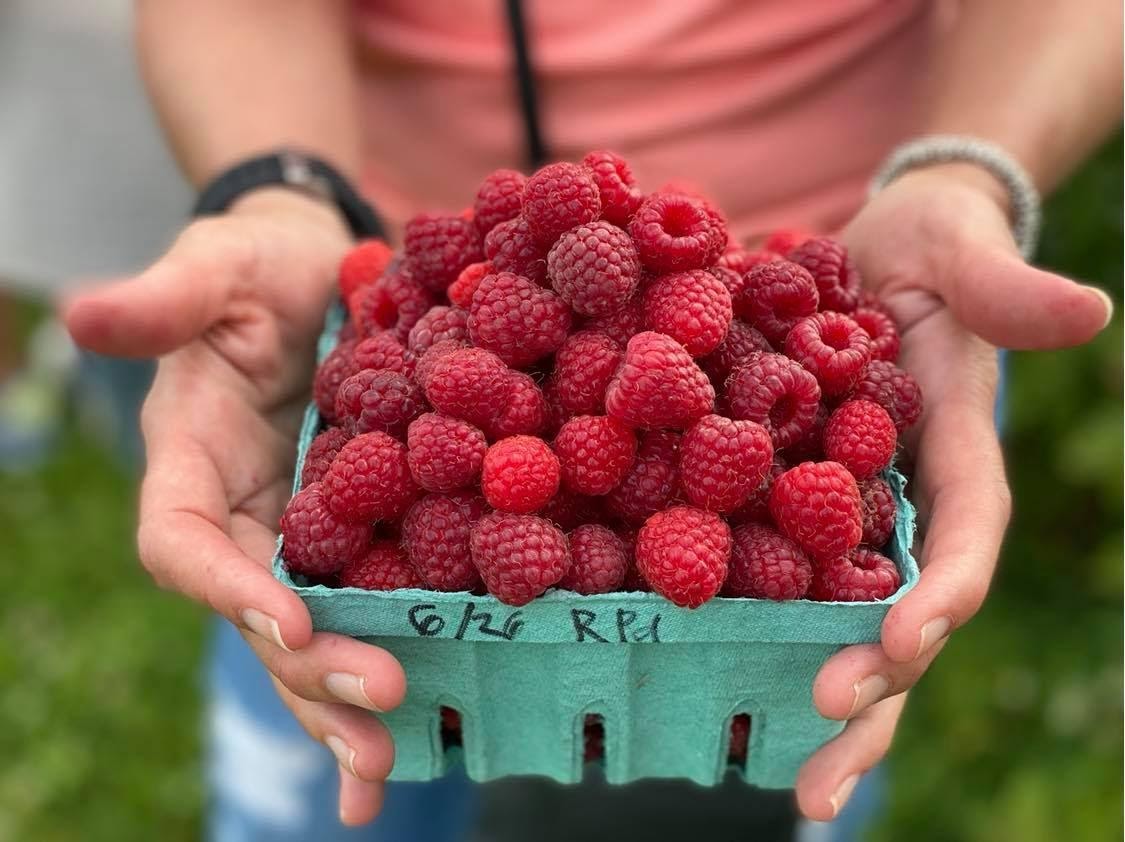 Raspberries:  the Delicate Delicacy   
While mighty in the taste department, the raspberry is a bit weak from a structural standpoint.   The empty cupped-shaped interior and drupelet walls will collapse when buried underneath mounds of other raspberries.  Carefully spread out your raspberries as soon as you can using trays or other wider storage containers.
Moisture is another enemy, as it can promote an early demise.  Never wash the raspberries until ready to use.  After gently rinsing, allow them to sit on a towel to dry before using or freezing.  
Even the most cautious caretaker of the raspberry will only be able to extend its lifespan to 2-3 days.  Plan on using or freezing your freshly picked treasures as soon as you can.  
Click here for other tips on raspberry care.      After snacking (if you actually have any left) here are some ideas to use your leftover raspberries:
After snacking (if you actually have any left) here are some ideas to use your leftover raspberries:
Stuff a chocolate chip inside a raspberry for a simple treat
Slice a date lengthwise in half, spread some peanut butter on it, and add a raspberry
Top a salad 
Blend in a smoothie or stir in lemonade
Add to some yogurt
Put some on your bowl of cereal 
Make jam or sorbet
Mix a fruit salsa with raspberries, strawberries, apples, and jam – serve with cinnamon chips
Raspberries are beautiful – showcase them on top of any dessert
Speaking of desserts, July 31 is National Raspberry Cake Day and August 1 is National Raspberry Cream Pie Day, so get baking!
Click here for other raspberry recipes  
Last but not least, totally irrelevant but fun raspberry trivia:
The computer company "Raspberry Pi" is named in response to other computer companies named after fruit (e.g. Apple), and the fruit pie, of course.
"Blowing a raspberry" is a phrase used to denote sticking your tongue out of your mouth and making a noise to sound like, well, you know…  
The Golden Raspberry Awards or "Razzies" serve the opposite purpose of the Academy Awards by dishonoring the worst movies with a golden painted plastic raspberry
Raspberry has been used as a color name since 1892, but became part of 80's pop-culture with Prince's hit song "Raspberry Beret" (go ahead and sing it to yourself now)
We know you'll agree that fresh picked raspberries are THE BEST raspberries – come to Lyman Orchards before they're gone!
P.s.  Why not make a day of it?  Pick your raspberries after a round of golf at Lyman Golf.  Then visit the 1741 Pub and Grill at the Lyman Golf Clubhouse for a meal and the Apple Barrel Farm Market for an ice cream before you leave.  Check out our Events page to see what else is happening at Lyman Orchards.  And since your freshly picked raspberries will only last a few days, we invite you to come back for more while they're still available!