How to Live "Appley" Ever After
Pick your own apples CT (PYO apples CT) is a delicious and charming fall tradition. Lyman Orchards is very excited about our apple crop this year, and we invite you to spend the day with us to share in the bounty and make some enchanting apple-picking memories. We know that even the pickiest pickers cannot take all day to fill a bag with apples, so Lyman Orchards has many on-site activities for you to stretch out the fun into an entire day – so many that you should probably come back several times!
Without further delay, here are a few a-peel-ing steps to ensure a perfectly awesome-to-the-core day at the orchard:
1) MAKE A PLAN:  Call the Pick Your Own Hotline at 860-349-6015 for the most up-to-date fruit availability, conditions, and pricing.  You know that certain apples are better for baking versus snacking, so with an understanding of the characteristics of the varieties that are available, you will make better picking decisions in the fields and have the right apples you want for home.  Read here for more info about the apple varieties at Lyman Orchards. 
2) CONNECT WITH NATURE: Apple picking is an extended nature break. Take a moment to breathe in deeply and experience the great outdoors: Feel the air on your face, smell the surroundings, hear the rustling leaves and the crunch of the grass below your feet, and touch the smooth apples. Capture the experience with photos to relive for years to come.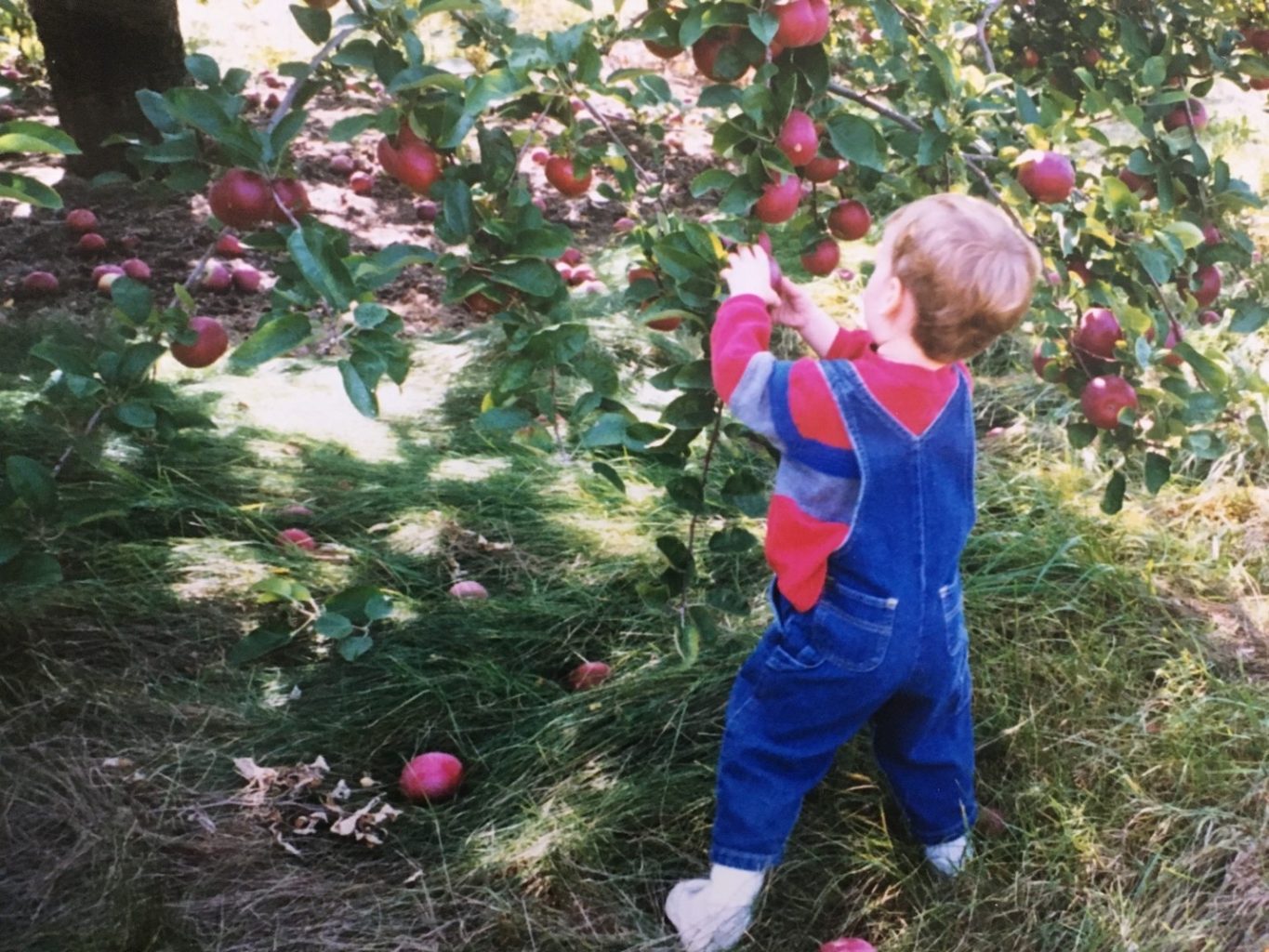 3) GET PICKING:  Pick the apples that you have earmarked for snacking and/or baking, but also allow yourself to be lured in by other pretty apples that catch your eye – it's a great way to find your future favorite variety.  If you don't trust your apple identifying skills, then take a picture of the sign at the end of the row.  Another idea is to bring along some various colored tape or stickers to wrap each apple stem before placing it in your bag and keep a list of which colors correspond to which apple variety.   
4) PICK SOMETHING EXTRA:  Apples are the star of the day, but there's an enormous variety of PYO fruits and vegetables at Lyman Orchards.  Think what you could do with a squash flower or Asian pear or gourd!  
5) ENJOY SOME AGRITAINMENT: Apple cannons, Corn Maze, Lyman Golf, and more!
- APPLE CANNONS, you ask?  Yes!  Both young and old apple pickers are LOVING our two high-powered apple air cannons.  Angle the barrel and let your biodegradable apple ammo propel at 100mph across a field filled with aliens, Big Foot, and bullseye targets.  The cannons are very easy to operate but quite challenging to hit the targets.  Try it and you'll be hooked!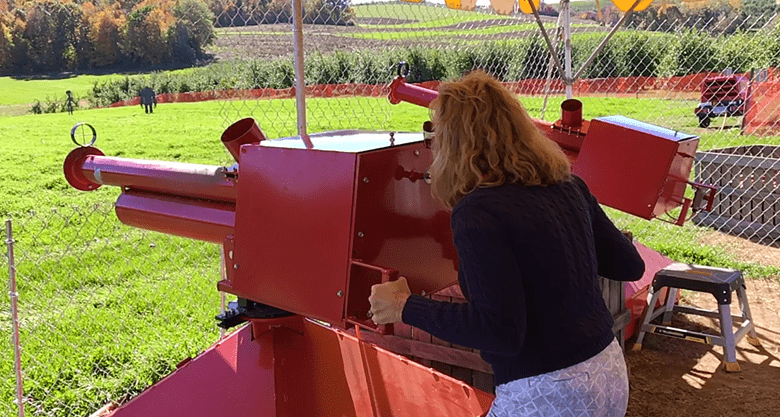 - Stay put at Lyman Orchards to take part in another fall family favorite, the CORN MAZE.  This year's theme is "Rock n Roll" and it is aMAZEing.  Fun musical facts are provided throughout your journey, trivia questions help you make informed decisions about which way to turn, and a portion of the proceeds go to the American Cancer Society and Connecticut Cancer Foundation.               
- LYMAN GOLF invites you to experience the beauty of autumn golfing.  No other apple orchard in Connecticut offers you 36 holes of championship golf (some holes pass right by the apple orchard!), 2 driving ranges, 2 pro shops, practice areas, a par-29 course, unbeatable instruction, and even apple tee markers. 
- But wait, there's more!  Lyman Orchards is pleased to host a wide variety of extra fun events to entertain everyone.  Check out the EVENTS tab so you don't miss a thing!   
6) EAT:  No apple picking trip would be complete without some soul-satisfying apple cider donuts, available at the Apple Barrel Farm Market.  We also recommend the 1741 Pub and Grill at the Lyman Clubhouse and the Deli at the Apple Barrel Farm Market for feeding your apple-picking crew.    
7) SHOP:  In case you haven't heard, the Apple Barrel Farm Market carries the tastiest apple pies around!  You can also load up on local and gourmet specialty treats and grocery essentials before you hit the road.    
8) ENJOY YOUR HAUL:  Apples are so incredibly versatile.  You can eat them raw, add to both sweet and savory dishes, bake them, make apple sauce, turn them into cider, juice, or even chips.  Check here for some of our favorite apple recipes. 
Fall is a wonderful time of year, and we can't wait to be part of your apple picking trip. Make it a day to remember at Lyman Orchards and you, your family, and your friends will all live appley ever after.